Business Continuity Management (BCM) is a subset of risk management, focusing on threats and vulnerabilities that could negatively impact an organisation's operations. The objective of BCM is to make organisations more resilient to threats and to ensure organisations can resume or continue operations under abnormal or unfavourable circumstances.
| | | |
| --- | --- | --- |
| ………………….. | "Business Continuity Management (BCM) is defined as a holistic management process that identifies potential threats to an organisation and the impacts to business operations those threats, if realised, might cause, and which provides a framework for building organisational resilience with the capability of an effective response that safeguards the interests of its key stakeholders, reputation, brand and value-creating activities." Source: ISO 22301:2012 | ………………….. |
Poor implementation of BCM could lead to financial losses. However, adequate BCM practices can help organisations identify crisis situations in an earlier stage and recover more rapidly, which can lead to competitive advantages. Adequate BCM involves management of the overall business continuity programme through awareness, training, exercises and reviews, to ensure the business continuity plan(s) stay(s) current. Paramount to the success of BCM is the alignment of the IT Disaster Recovery Plan with the Business Continuity requirements.
Benefits
Typical benefits of implementing BCM are:
Maintaining continuity of service delivery and operations
Increasing organisational resilience
Reducing financial and business risk exposure
Buidling confidence within the organisation
Building customer confidence and trust
Protecting brand value and reputation
Improving compliance
Having competitive advantage
Enhancing health & safety
Why CAP Technology?
Our team consists of experienced business and technology professionals who assist organisations in ensuring timely resumption and delivery of essential business activities in the event of a major disruption.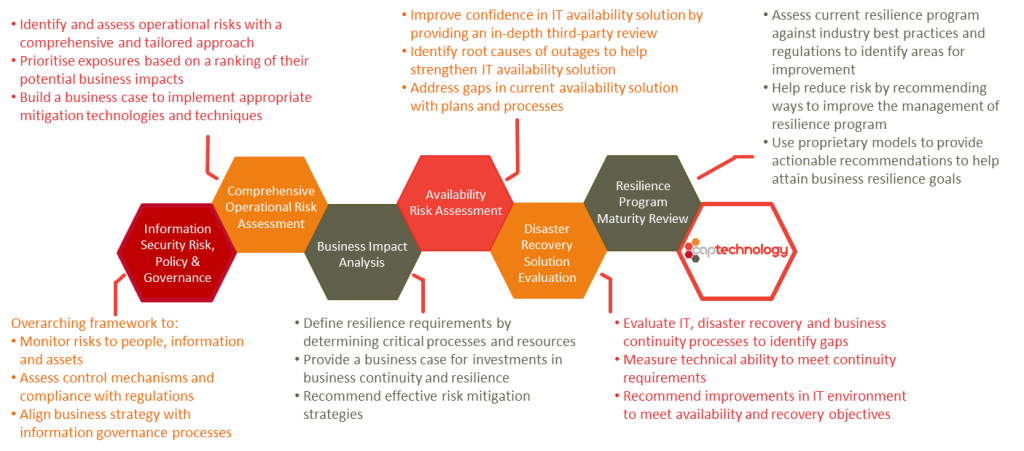 Business Continuity Management Review
Through our tailored, efficient and effective approach, our Business Continuity Management methodology delivers measurable value by providing governance principles around key business resources required to support delivery and recovery of your most critical activities.
Our typical approach to review and develop a Business Continuity and IT Disaster recovery plan, consists of multiple phases with various decision points.