About the CAP Governance, Risk and Compliance Framework
Organisations are faced with increasing legislation, regulations and an increasing amount of standards to comply with. Boards of directors are under scrutiny today as never before. They are entrusted to make strategic governance decisions on behalf of stakeholders and those decisions can even affect society as a whole. Without an effective GRC framework, executive and senior management may be constrained in their decision making, by not having a holistic view on the organisation's current risk exposure. Maturing an organisation's GRC framework, by integrating risk and compliance functions across the enterprise, can greatly increase transparency at the top and lower levels of the organisation, enabling better decision making.
Some of the typical challenges for private and government organisations alike, are managing the risks related to ensuring compliance to the Information Privacy Act 2009 and Payment Card Industry Data Security Standard (PCI DSS) or the Information Standard 18 (IS18) (Queensland Government Chief Information Office).
The CAP Technology Governance, Risk and Compliance Framework (CAP GRC Framework), provides a holistic approach to governance, enterprise risk management and compliance related activities. The framework shows the inter-relationship between the different functions and is used as a tool to integrate and standardise relevant processes, policies, procedures and controls.
Why use the CAP GRC Framework?
CAP Technology promotes the adoption of a GRC approach to enterprise risk management. CAP Technology focuses on the integration of the three functions, which can provide the following benefits: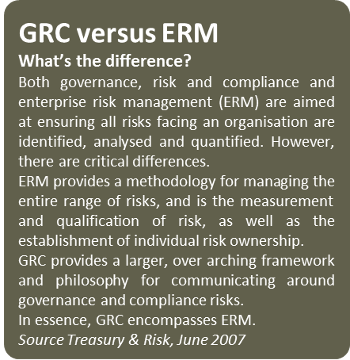 increased risk intelligence to strengthen risk management and streamline regulatory compliance
achieve business objectives while optimising the risk profile
improve resource effectiveness
greater assurance for stakeholders that risks are managed appropriately
improved effectiveness of controls
an increased value perception of risk management to the organisation
fewer breaches
improve an organisation's ability to support business continuity management
enabling the measurement of performance and effectiveness of the GRC functions.
Our approach
The CAP GRC Framework is the over arching framework to address governance and compliance risks. CAP Technology has experienced Enterprise Risk Management consultants and provides a fact-based approach to assessing the "as-is" state of the GRC capability and maturity. CAP offers specialist advisory services to fast track the project to improve GRC capability and maturity in the organisation and use the approach as shown in the diagram below.