What is the CTI Assessment?
Although an organisation's ICT expenditure on infrastructure, applications and resources is typically a significant proportion of an organisation's budget, executives continue to struggle with prioritisation and business justification on ICT related spend.
To help provide a consistent method for determining the likely business improvement and expected value from a proposed ICT spend, our analysts have developed a CAP Technology Improvement (CTI) Assessment.
Our Approach
The CTI Assessment is built on our understanding that the likely business improvement and expected value from any spend on Technology Capital is directly linked to the maturity of the organisation's ICT governance and enterprise architecture. Higher levels of ICT governance maturity typically improve the predictability of project delivery outcomes and indicate greater sophistication in the ability of management to direct and control the effectiveness, efficiency and quality of assigned work. Increased maturity of enterprise architecture typically enables a business to align their strategy and operations with their core business functions, processes, information systems and services.
With this lens, CAP has developed a comprehensive maturity assessment based on COBIT®5 and CAP proprietary models that provides insight into your organisation's people, processes, infrastructure.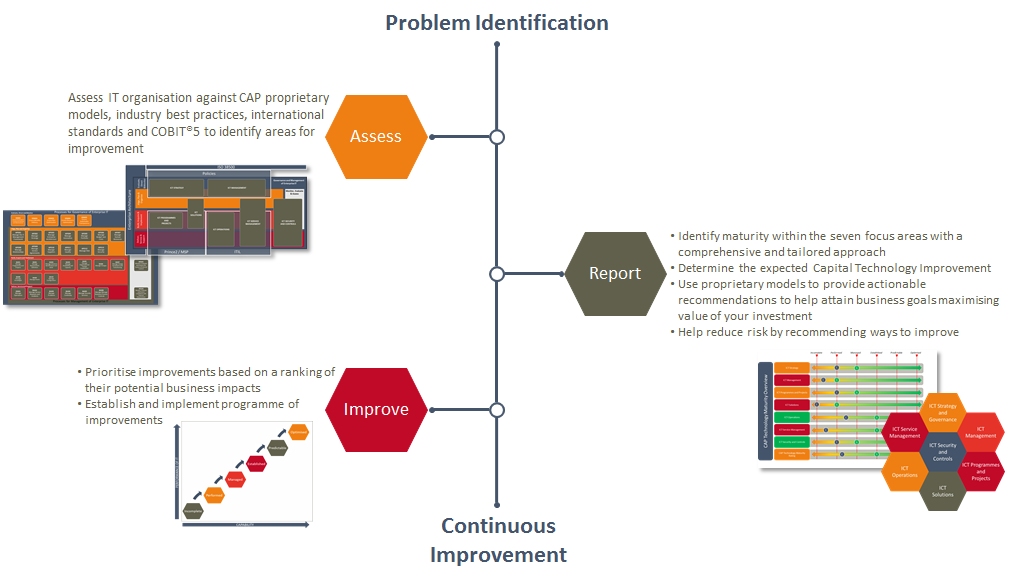 The level of assessment undertaken should be commensurate with the amount of spend, organisational risk exposure and time constraints. The CTI Assessment accuracy is increased with the depth and breadth of the analysis performed.  The CTI Assessment highlights expected benefit of the potential ICT spend for each assessment domain.
The outcome
The CTI Assessment provides a fact-based assessment on the likely business improvement and expected value from the proposed spend on Technology Capital.
The areas for business improvement and potential risk reduction are identified and recommendations are prioritised and documented.