The Internet and mobile computing have changed people's buying behavior all over the world, forcing most companies to provide online sales channels to their customers. To facilitate this, small and medium size businesses invest considerable amounts of money and resources into their electronic commerce (eCommerce) strategies without taking into account all the key success factors related.
Once the decision to enter into the eCommerce world has been made, the reasonable approach for an organisation is to start developing an eCommerce website, integrated with its  back office processes (inventory, sales, logistics, customer service) to provide the customers the same experience they would have on an existing store. That same experience includes brand, customer service and products.
After a heavily resource and time consuming project developing the company's eCommerce website, the launch date arrives and all eyes are set on the new endeavour demanding good results as soon as possible. Product managers will have to deal with sales expectations from the first day the website goes live. In reality, developing the website is just a small part of an electronic commerce strategy as there are many factors to take into account before and once the website is available.
All the elements outlined in the image below are highly important for the success of a company's eCommerce plans. However, start with including analytics capabilities into an eCommerce website will generate the necessary information to be able to generate specific action plans to improve user experience, to define digital marketing plans and to start selling the company's products and services.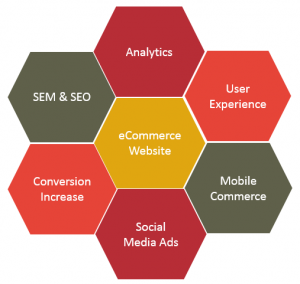 Using free tools like Google Analytics will allow the company to understand basic audience statistics such as:
the number of times the website has been accessed
how many unique visitors it has had
where it has been visited from and which type of platforms have been used.
In addition to basic statistics, Google Analytics capabilities can also be used to track visitors' behaviour. For instance, Google Analytics can provide crucial information on:
what keywords the website's visitors have searched
if visitors are clicking on a product's image instead of product's name
if visitors are adding products to the cart but not placing the order.
Based on the above information a company's eCommerce strategy's tuning process is ready to kick off.
Additional elements inside an eCommerce strategy and more detail about Google Analytics capabilities will be discussed in further posts. If you want to receive additional information or to receive assistance launching a successful eCommerce strategy please contact the CAP Group here.